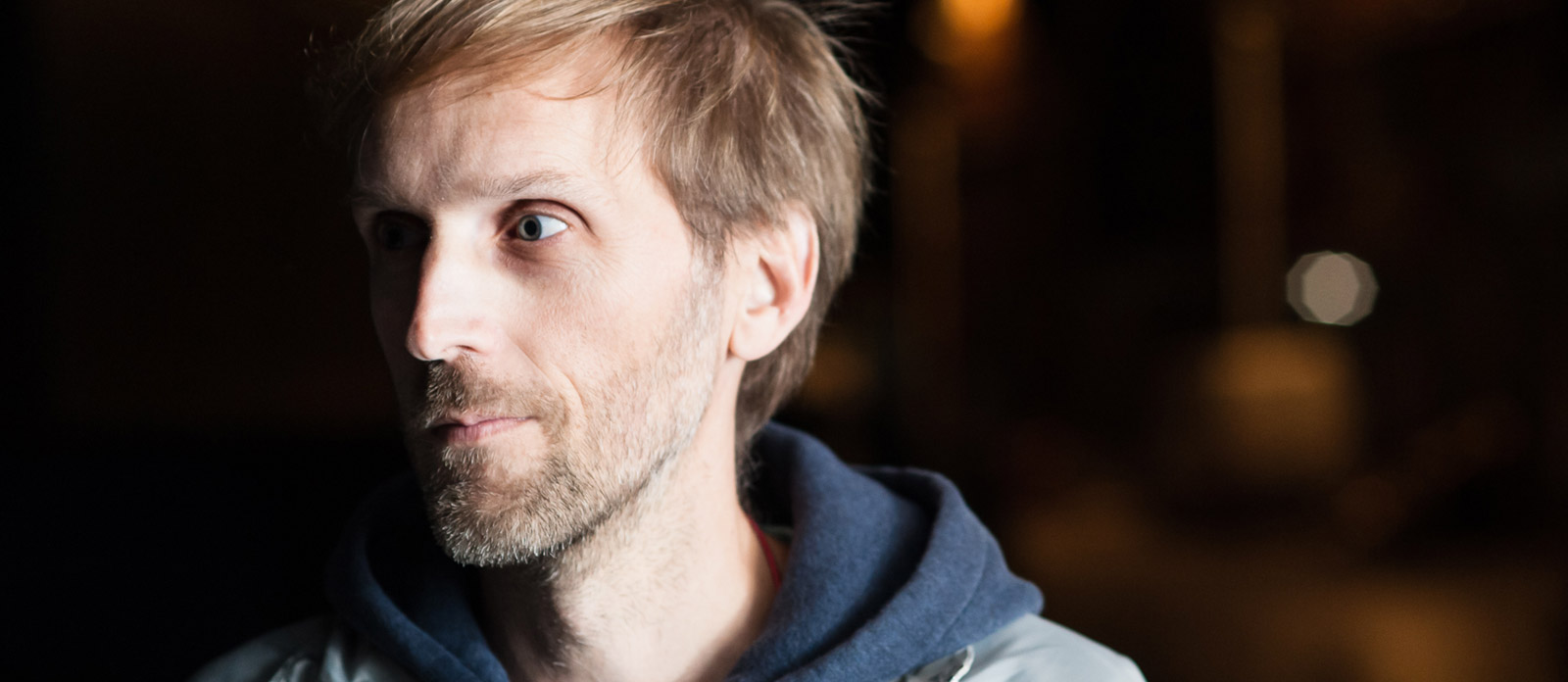 Skryptöm
Facebook – Instagram – Soundcloud – Spotify
Infatigable passionné, activiste touche-à-tout, Antoine Husson aka Electric Rescue est une référence depuis près de 30 ans. Militant de la rave, on le retrouve sur tous les fronts. Quand il ne s'agite pas sur les scènes les plus prestigieuses, avec un de ses nombreux projets (Möd3rn, W.LV.S, Laval ou encore Re.Kod), c'est en boss de label, avec la belle aventure Skryptöm lancée en 2007 qu'il secoue la planète techno et l'underground parisien. Au fil des années, le label a gagné en effervescence avec plus d'une soixantaine de sorties, une reconnaissance internationale et plus récemment des résidences à Paris au Kilomètre25 etau Nexus. Un activisme et un amour pour la musique qu'il exprime avant tout par la composition. Producteur ultra prolifique, Electric Rescue est le gardien d'une techno sans concession. Ses créations s'exportent sur les labels les plus prestigieux, de Soma à BNR en passant par Cocoon, Bedrock ou le label Virgo d'Ilario Alicante et récoltent un soutien unanime de la part de la scène électronique mondiale, de Laurent Garnier à Marcel Dettmann, sans manquer de séduire la nouvelle génération de producteur.ice.s. Une identité forte et une empreinte sonore atypique qui lui ont permis d'écumer de belles scènes, de Concrete au Berghain/Panorama Bar en passant par les Piknic Electronik montréalais, des tournées en Asie, ou de belles collaborations, comme Variations avec Gaspar Claus. Après trois albums inspirés par ses expériences personnelles et sa philosophie de la rave, entre techno authentique et contemporaine aux reflets électronica, Electric Rescue revenait en 2020 au long format avec un projet artistique total et ambitieux : un duel de deux albums, 'Esquisse du nouveau monde' sur Skryptöm et 'Sketch from a new Era' avec le projet électronica Re.Kod sur Wic Recordings. Deux univers qui s'opposent autant qu'ils ne se complètent, liés par deux courts-métrages. Une année 2020 prolifique pour Antoine Husson, qui sortait également trois EP sur Kill Ref, Materia et Fever Records et un EP commun avec sa protégée EKLPX sur Skryptöm. 2021, commençait en trombe avec la 50e release du label : un various de collab' et de remixes croisant les générations avec Rrose, Marc Houle, Zadig, Umwelt ou encore Scan X ; suivi de d'un nouvel EP 'Forgotten Tolerence' sorti en avril.
Infatigable et incontournable, le boss de Skryptöm continue d'affirmer sa place de pilier au sein de la techno française et internationale.
EN
A tireless enthusiast and all-round activist, Antoine Husson aka Electric Rescue has been a reference for nearly 30 years. A rave activist, he can be found on all fronts.
When he is not playing on the most prestigious stages with one of his numerous projects (Möd3rn, W.LV.S, Laval or Re.Kod), it is as a label boss, with the beautiful Skryptöm adventure launched in 2007 that he shakes up the techno planet and the Parisian underground. Over the years, the label has gained in effervescence with more than sixty releases, international recognition and more recently residencies in Paris at Kilomètre25 and Nexus. An activism and a love for music that he expresses above all through composition. Ultra prolific producer, Electric Rescue is the guardian of uncompromising techno. His creations are exported on the most prestigious labels, from Soma to BNR via Cocoon, Bedrock or Ilario Alicante's Virgo label, and are unanimously supported by the world electronic scene, from Laurent Garnier to Marcel Dettmann, without failing to seduce the new generation of producers. A strong identity and an atypical sonic imprint that have allowed him to play on many beautiful stages, from Concrete to the Berghain/Panorama Bar, via the Montreal Piknic Electronik, tours in Asia, and beautiful collaborations, such as Variations with Gaspar Claus. After three albums inspired by his personal experiences and his rave philosophy, between authentic and contemporary techno with electronica reflections, Electric Rescue returned in 2020 to the long format with a total and ambitious artistic project: a duel of two albums, 'Esquisse du nouveau monde' on Skryptöm and 'Sketch from a new Era' with the electronica project Re.Kod on Wic Recordings. Two universes that oppose each other as much as they complement, linked by two short films. A prolific year 2020 for Antoine Husson, who also released three EPs on Kill Ref, Materia and Fever Records and a split EP with his protégée EKLPX on Skryptöm. 2021 started with a bang with the label's 50th release: a various crossing generations including remixes and collaborations with Rrose, Marc Houle, Zadig, Umwelt or Scan X; followed by a new EP 'Forgotten Tolerence' released in April.
Untiring and unavoidable, Skryptöm boss continues to assert his place as a pillar of the French and international techno scene.