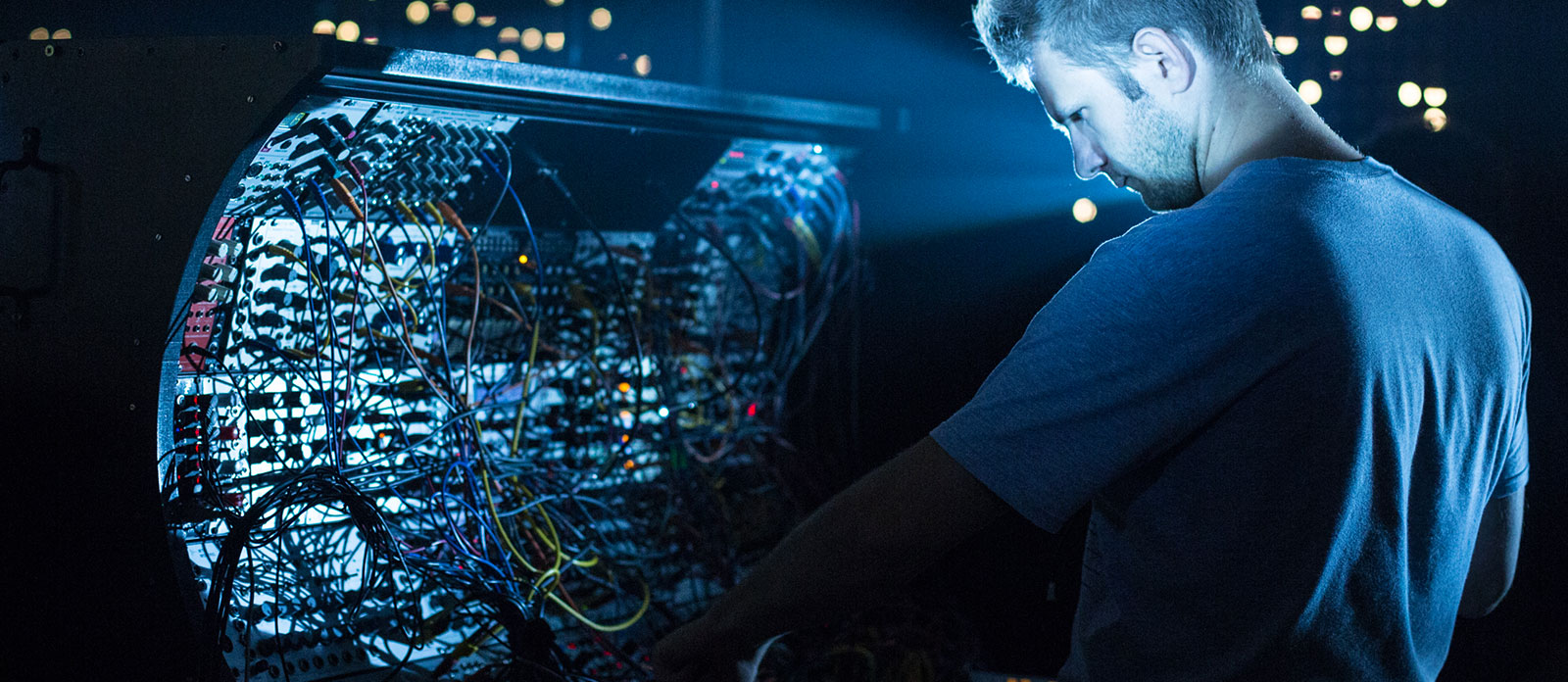 aka Maxime Dangles
Anemone
Facebook – Instagram – Soundcloud – Spotify
Avec DNGLS, side project de Maxime Dangles, le producteur français dévoile un alter ego plus sombre et cinémato-graphique, un univers atmosphérique et captivant, agitant ses expérimentations modulaires et odes aussi dansantes que fascinantes. Après une brillante collaboration avec Len Faki en 2016, DNGLS a sorti sur Anemone Recordings son premier long-format en 2017, 'Lukarne' : sa vision de l'expérimentation underground avec ses machines analogiques, profondément inspiré par les compositeurs des bandes cinématographiques qui le fascinent comme Hans Zimmer.
À coup de sonorités sombres et mélancoliques, DNGLS transporte au coeur de basslines hypnotiques, entremêlées d'effets discordants d'une qualité éthérée et de textures lisses et subtiles. Projet totalement dédié au live et à la production analogique, l'environnement musical qu'il créé est fait de sons acérés, bruts et saisissants. Cette expérience sonore a déjà séduit de belles scènes comme Astropolis, le Glazart, le Rex, le Trabendo, Les Îlots Electroniques ou Nordik Impakt. Armé de son impressionnant modulaire, on le retrouvait également sur l'écran de Culturebox pour un épisode de Sequences, série dédiée aux lives électroniques tournée à 360°.
EN
Maxime Dangles discloses a new identity with DNGLS : an alter ego darker and rawer, producing a music both atmospheric and captivating, through modular experiments and fascinating sounds. After a sparkling collaboration with Len Faki in 2016, DNGLS realeased his first album in 2017, 'Lukarne', on Anemone Recordings. Deeply inspired by film soudtracks composers such as Hans Zimmer, this album takes listeners down an hour-long journey of hypnotic, rolling bass lines, intricately layered with jarring effects and an ethereal quality that fills the room.
The smooth, subtle buildups and seamless transitions evoke feelings from apprehension to liberation, reminiscent of the film work that inspired the album's conception. DNGLS' inimitable sound lends itself to his passion for machines over softwares and digital technology. Fully committed to the live, analog methods of production and mixing, the music environment DNGLS creates is made of sharp, raw and striking sounds. This sound experience already convinced many famous scenes, such as Astropolis, Glazart, Rex, Trabendo and much more. His extensive knowledge and understanding of sound is reflected in his productions, and in the creative and original projects he is involved in. With is huge synthesize, he was filmed by Culturebox, for Sequences.