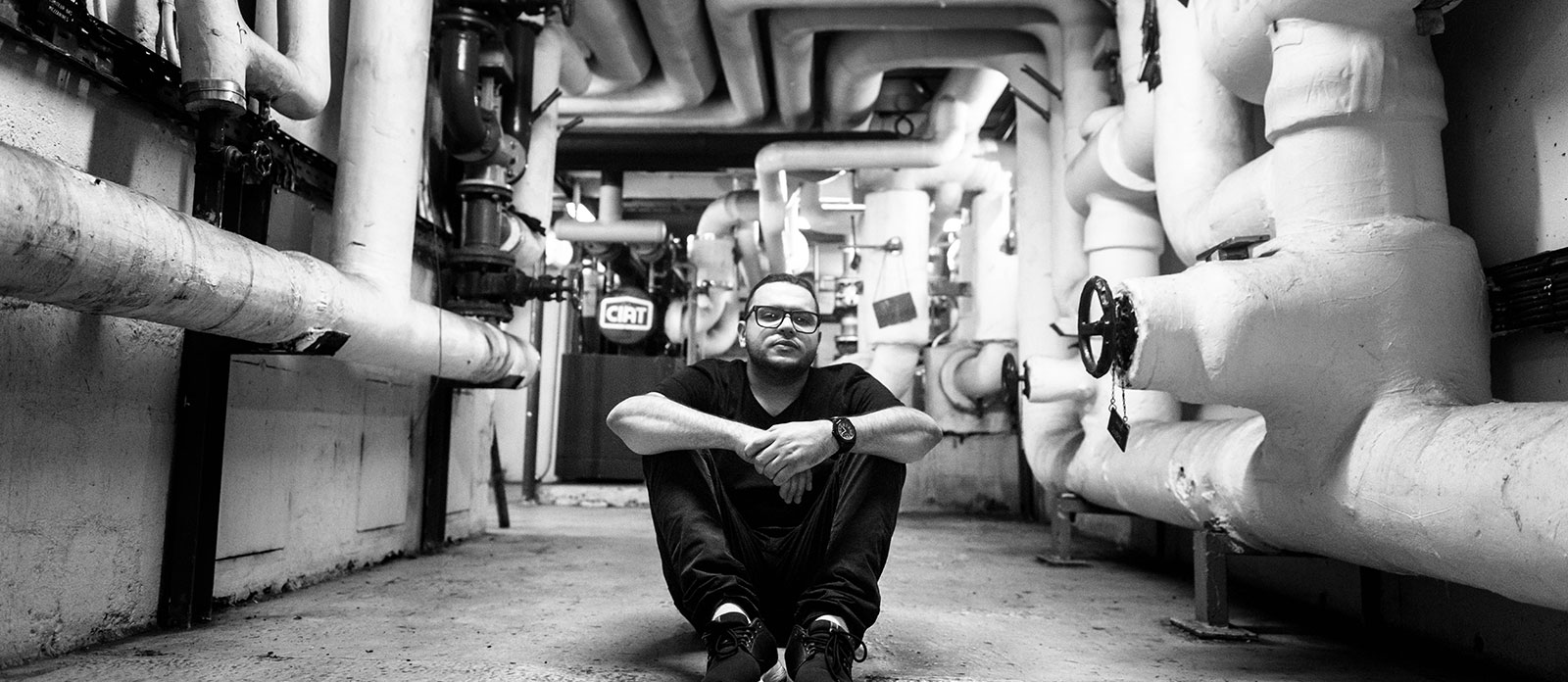 KMYLE
Skryptöm, Clergy, Kmyle Records
Dj set • Live
Révélation de l'écurie Skryptöm, Kmyle fait partie de ces artistes hyperactifs qui se taillent une réputation à la lumière de leurs productions et de collaborations savamment menées. Musicien autodidacte et technoïde précoce, il est devenu un machiniste aguerri, déployant toute son énergie en live et aux platines lors de performances musclées aux sonorités claquantes, résolument dancefloor. Avec un univers sombre et épuré, Kmyle a su se faire une place en quelques années sur la scène techno hexagonale et s'inspirant d'artistes tels que Luke Slater, Inigo Kennedy ou Paula Temple. Après trois EPs incluant des remixes d'artistes incontournables comme Voiski ou Ilario Alicante, Kmyle connait une ascension fulgurante avec la sortie de son premier album autobiographique à la techno aérienne et mélodieuse,  'Northern Landscapes' sur sa maison-mère, Skryptöm, gérée par son acolyte Electric Rescue. Cet album, remarqué par Cleric, lui donne l'opportunité de sortir trois EPs sur le label Clergy, où il explore une techno plus sombre et abyssale, dont un sorti au printemps 2019 en collaboration avec le producteur anglais et remixé par le vétéran James Ruskin. Reconnu comme un insatiable passionné de travail, on le retrouve également au sein des projets Möd3rn, ou derrière une esthétique sonore plus glaciale avec le duo Laval. En 2020, Kmyle continue d'affirmer sa notoriété avec de belles sorties sur Mord, ARTS ou Materia,  un EP sur Astropolis Records, « Keroual », avec un remix hardcore du très respecté Zadig et une 4e collaboration avec Cleric sur un album atmosphérique illustrant le projet « The Outlaw Ocean Project », sur la surpêche illégale et destructrice. Une année décidément très riche pour Kmyle qui franchit un nouveau cap avec le lancement de son propre label Kmyle Records. Un nouveau label inauguré par un EP fracassant, 'Wasteland' , encensé par ses pairs (Ellen Allien, Amelie Lens, Emmanuel- ARTS…) et la presse (XLR8R, FAZE). Il aura fallu peu de temps à cet ambassadeur de la nouvelle génération pour se hisser au rang des producteurs les plus excitants de l'hexagone, dont le nom résonne bien au delà des frontières ce qui l'amène à écumer les grands clubs européens (Razzmatazz, le Suicide Circus, Concrete, Egg London, le Rex club, Piknic Electronik Paris…) et à s'exporter jusqu'à Tbilisi et Shangaï.
EN
Revealed by Skryptöm, Kmyle is this kind of hyperactive music artist who build brightly his reputation through productions and great collaborations. Self-taught musician and early techno addict, he learnt how to use hardware in genius way and now offers energic shows, both live or dj set performances.
With his own dark and raw universe, it took only a few years for Kmyle to increase his notoriety in the French Scene, influenced by artist such as Luke Slater, Inigo Kennedy or Paula Temple.
After three EPs, including famous artist remixes, like Voiski or Ilario Alicante, Kmyle affirmed all his talent by his debut solo album, deeply autobiographical with an aerial and melodious techno, « Northern Landscapes », released on Skryptöm, run by his partner in crime Electric Rescue. This release led him to Cleric and his Clergy imprint with a bench of thee EPs, within one released last Spring 2019 featuring the UK based producer and remixed by techno veteran James Ruskin. Known as a keen hard worker, he is also part of different side-projects: the live trio or quatuor Möd3rn with his friends Maxime Dangles, Electric Rescue and Moteka, and Laval, a more freezing techno project with Skryptöm's boss. 2020 has been a heavy year for Kmyle with great releases on Mord, ARTS, Materia, a nice EP on Astropolis Records, « Keroual », including a hardcore remix from French veteran Zadig and another collaborations with Cleric on an atmospheric album illustrating the documentary « The Outlaw Ocean Project » on illegal and destructive overfishing. A successful year for Kmyle who reach a new milestone with the launch of his own label, Kmyle Records. A new label introduced by a smashing new EP, Wasteland, acclaimed by his peers (track ID Spotify d'Ellen Allien, & Amelie Lens, le top d'Emmanuel – ARTS) and medias (XLR8R, FAZE).  There is no doubt that Kmyle is nowadays part of the most exciting young producers in Europe, leading him to prestigious stages such as Razzmatazz, Suicide Circus, Concrete, Egg London, Rex Club or Tbilisi.