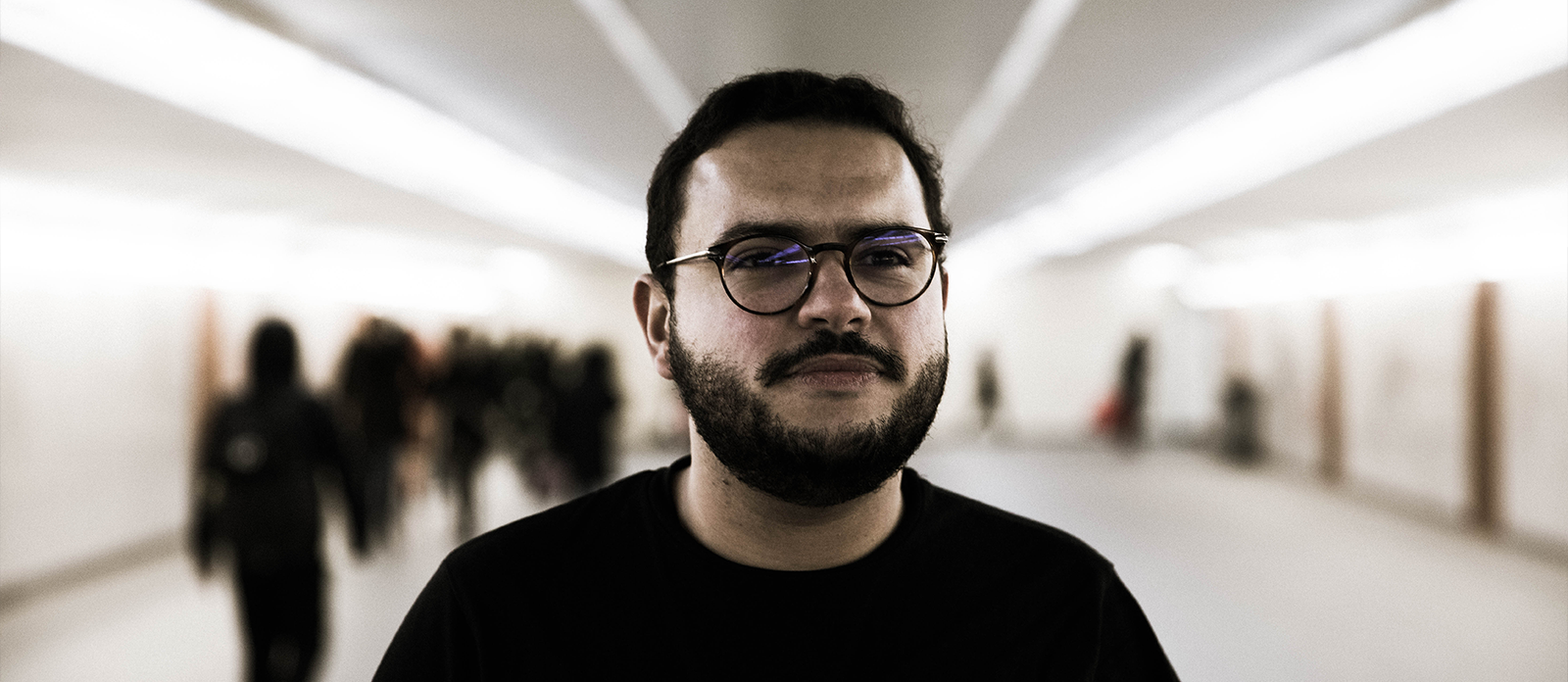 Kmyle Records, Skrypöm
Facebook – Instagram – Soundcloud – Spotify
Depuis ses débuts sur Skryptöm, Kmyle s'est forgé une carrière sans faille, avec sa propre identité artistique faite de productions sensibles entre une techno percutante, des mélodies mentales atmosphériques mêlées à des rythmes hypnotiques et des synthés aux textures organiques. Pour cela, de nombreux labels prestigieux lui ont fait confiance, tels que Soma (Slam), Mord (Bas Mooy), Clergy (Cleric), Break New Soil (Gregor Tresher), ARTS (Emmanuel), Cod3qr (Laurent Garnier & ScanX), Materia (Marco Bailey), Beardman (Mark Broom), ou Astropolis Records. Ces aventures l'ont vu collaborer en studio avec la crème des artistes internationaux tels que Extrawelt, Voiski, James Ruskin, Inigo Kennedy, Zadig, Umwelt, Paul Ritch, Drumcell, Cleric, pour ne citer qu'eux ;
Hyperactif et prolifique, Kmyle est un producteur acharné et un ingénieur chevronné des machines. Aussi à l'aise en studio que sur scène, il est connu pour ses talents de performeur lors de ses lives euphoriques et ses DJ sets puissants, ainsi que pour son quatuor techno Möd4rn (formation live), ou encore pour son univers sonore le plus pur avec ses performances spatialisées 360°.
L'artiste est la synthèse parfaite d'une techno contemporaine artisanale et texturée : un voyage vers des paysages sonores éblouissants qui brouillent l'espace-temps. Ces paysages qui peuvent s'aventurer dans des profondeurs glaciales et mélancoliques comme dans des turbulences robustes et périlleuses.
En 2020, il franchit une nouvelle étape et lance son propre label Kmyle Records, inauguré par 'Wasteland', un premier EP fracassant encensé par ses pairs (Ellen Alien, Amélie Lens…) et la presse internationale (XLR8R, Faze…).
Il n'a pas fallu longtemps à cet ambassadeur de la nouvelle génération pour devenir l'un des producteurs les plus excitants de France, dont le nom résonne désormais bien au-delà des frontières, le menant au Glazart Paris en tant que DJ résident, et dans les meilleurs clubs et festivals de la scène électronique internationale.
EN
Since his Skryptöm debut, Kmyle has forged a faultless career, with his own artistic identity made of sensitive productions between a forceful techno, atmospheric mental melodies mixed with hypnotic drums and organic landscapes. For it, many prestigious labels have trusted him, such as Soma (Slam), Mord (Bas Mooy), Clergy (Cleric), Break New Soil (Gregor Tresher), ARTS (Emmanuel), Cod3qr (Laurent Garnier & ScanX), Materia (Marco Bailey), Beardman (Mark Broom), or Astropolis Records. These adventures have seen him collaborate in the studio production with the cream of international artists for such as Extrawelt, Voiski, James Ruskin, Inigo Kennedy, Zadig, Umwelt, Paul Ritch, Drumcell, Cleric, to name a few.
Hyperactive and prolific, Kmyle is a relentless producer and a seasoned engineer with machines. Equally at ease in the studio and on stage, he is known for his performer skills during his euphoric live shows and powerfull Djsets, as well as his Möd4rn Live techno quatuor, or else in its purest sonic universe into his Spatialised 360° performances.
The artist is the perfect synthesis of a artisanal and textured contemporary techno: a journey towards dazzling space-time blurring soundscapes that can venture into icy and melancholic depths as well as robust and perilous turbulences.
In 2020, he took a new step and launched his own label Kmyle Records, inaugurated by 'Wasteland', a first smashing EP praised by his peers (Ellen Alien, Amélie Lens…) and the international press (XLR8R, Faze…).
It didn't take long for this ambassador of the new generation to become one of the most exciting producers in France, whose name now resounds far beyond the borders, leading him to the Glazart Paris as Resident DJ, and to the best clubs and festivals on the international electronic scene.