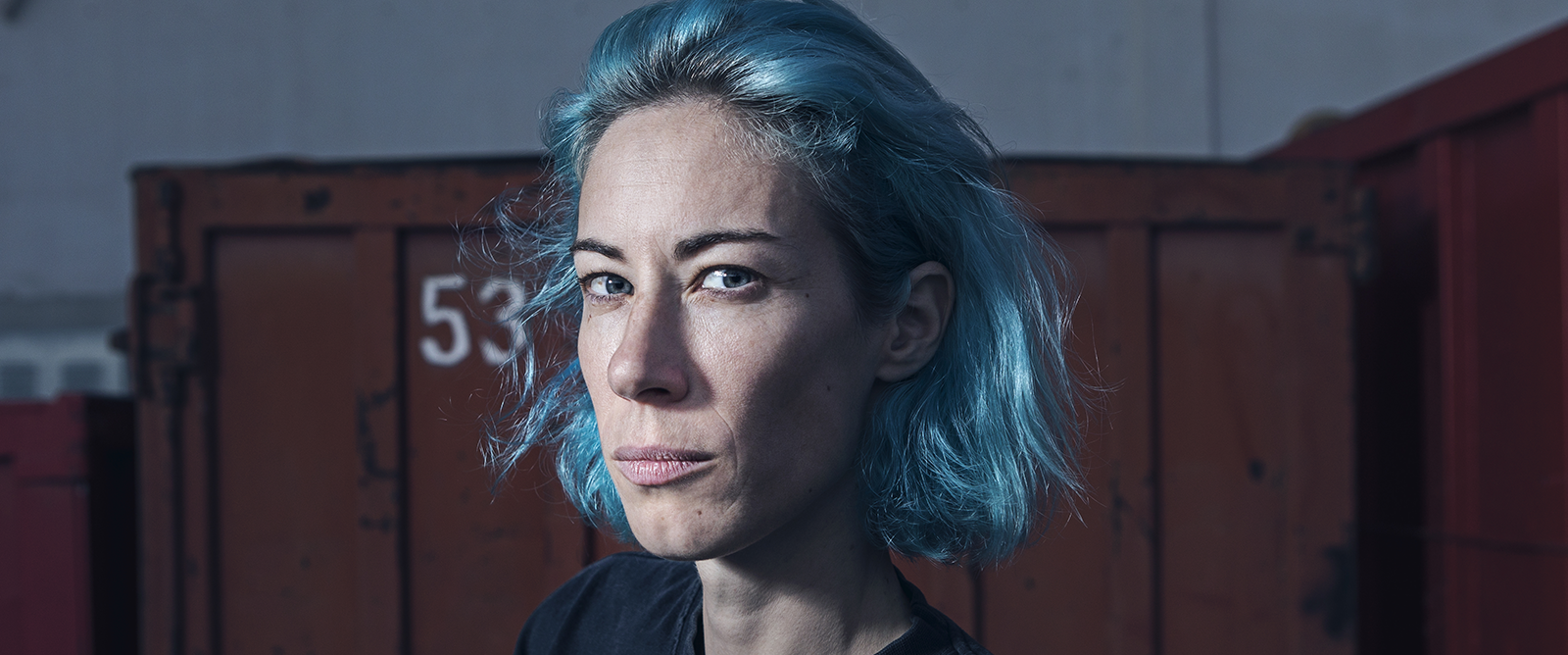 Espagne – Infiné, Lobster Theremin, House of (S)PUNK
Facebook – Instagram – Soundcloud – Spotify
Après plus d'une décennie derrière les platines, de Paris à Berlin en passant par Barcelone, La Fraîcheur s'est imposée en France et à l'international comme une figure majeure de la scène électronique. Une techno puissante protéiforme et versatile chargée d'émotions, naviguant dans ses recoins les plus sombres comme les plus solaires, nourrie d'un amour fort pour toutes les musiques électroniques : house, électro, dark disco, indie dance. L'artiste a bousculé des festivals de choix dans la mappemonde électronique (Burning Man, Dour, Eurockéennes, Fusion, Eurosonic, Printemps de Bourges…), embrasé les clubs les plus convoités d'Europe (Tresor, Razzmatazz, About Blank, Kitkat, Rex Club…) et donné sa voix à la scène queer et militante de ses deux bastions, Berlin et Barcelone au gré de nombreuses soirées et résidences, capable de captiver le dancefloor pour des heures de marathon. Reconnue pour son activisme et son engagement politique en faveur de la communauté queer, le féminisme ou la lutte antiraciste, il fait partie intégrante de son travail. Au travers de ses sets, productions, résidences en club comme Gegen, l'une des plus importantes soirées queer de Berlin, ou de réseaux comme Female:Pressure, l'artiste n'hésite pas à rappeler que les musiques électroniques et les clubs sont des espaces politiques et à profiter de son statut d'artiste pour éveiller les consciences.
Son premier album 'Self Fulfilling Prophecy', sorti en 2018 chez Infiné naviguant entre beats techno et discours politique, a été créé en partie à Détroit lors d'une résidence dans les studios d'Underground Resistance et est un manifeste de militantisme contre le racisme, l'homophobie ou la transphobie.Après une quinzaine d'EPs, sa techno raffinée et énergisante aussi hypnotique que réfléchie débarquait sur le grand label britannique Lobster Theremin en 2021 avec l'EP 'Tabula Rasa'.
Fidèle collaboratrice du producteur Leonard de Leonard avec une série d'EPs fusionnels, on la retrouve également en live à quatre mains au sein de ce duo qui prône une techno acid et industrielle, entre digital, analogique et modulaire taillée pour le club. Touche-à-tout, La Fraîcheur collabore également avec la danse contemporaine, notamment avec le chorégraphe Julien Grosvalet et la Cie R14 pour la pièce M.A.D., spectacle immersif célébrant la communion festive et une création originale avec la danseuse Véronique Lemonnier. En 2022, elle reviendra avec un nouvel EP sur son tout nouveau label House of (S)PUNK, prolongement des soirées techno queer et féministes qu'elle a lancé à Barcelone. Autant de projets transversaux et militants qui font de La Fraîcheur, une artiste électronique contemporaine complète, porte-parole de toute une génération et politiquement engagée. Une référence pour le public comme pour ses pairs et les causes qu'elle défend.

EN
After more than a decade behind the decks, from Paris to Berlin via Barcelona, La Fraîcheur has established herself in France and internationally as a major figure on the electronic scene. A powerful, protean and versatile techno, full of emotions, navigating in its darkest and sunniest corners, nourished by a strong love for all electronic music: house, electro, dark disco, indie dance. She has shaken up some of the best festivals in the electronic world (Burning Man, Dour, Eurockéennes, Fusion, Eurosonic, Printemps de Bourges…), set fire to the most coveted clubs in Europe (Tresor, Razzmatazz, About Blank, Kitkat, Rex Club…) and given her voice to the queer and militant scene of her two strongholds, Berlin and Barcelona, through numerous parties and residencies, capable of captivating the dancefloor for hours of marathon. Known for her activism and political commitment to the queer community, feminism and the fight against racism, it is an integral part of her work. Through her sets, productions, club residencies such as Gegen, one of the most important queer parties in Berlin, or networks such as Female:Pressure, she doesn't hesitate to remind people that electronic music and clubs are political spaces and to take advantage of her status as an artist to raise awareness.
Her first album 'Self Fulfilling Prophecy', released in 2018 by Infiné, navigates between techno beats and political discourse. It was partly created in Detroit during a residency in the Underground Resistance studios and is a manifesto of activism against racism, homophobia or transphobia. After fifteen EPs, her refined and energetic techno, as hypnotic as it is thoughtful, landed on the major British label Lobster Theremin in 2021 with the 'Tabula Rasa' EP.
As a regular collaborator of producer Leonard de Leonard with a series of fusion EPs, she can also be found live with four hands in this duo that advocates an acid and industrial techno, between digital, analog and modular, made for the club. A jack-of-all-trades, La Fraîcheur also collaborates with contemporary dance, notably with choreographer Julien Grosvalet and Cie R14 for the piece M.A.D., an immersive show celebrating festive communion and an original creation with dancer Véronique Lemonnier. In 2022, she strikes back with a new EP on her brand new label House of (S)PUNK, an extension of the queer and feminist techno parties she launched in Barcelona. So many transversal and militant projects that make La Fraîcheur a complete contemporary electronic artist, spokesperson of a whole generation and politically committed. A reference for the public as well as for her peers and the causes she defends.